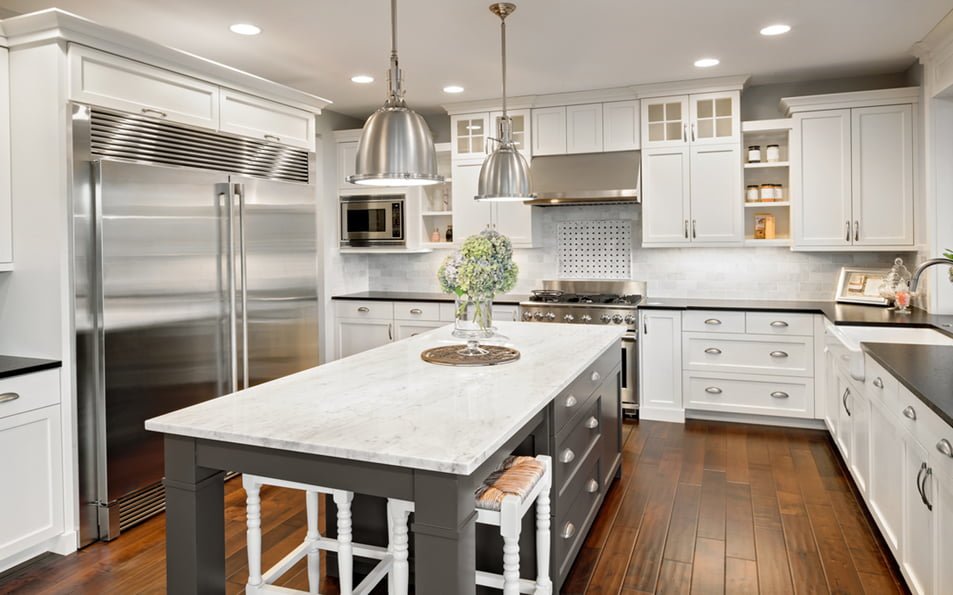 5 Kitchen Countertop Trends of 2018
Kitchen countertops are a crucial part of kitchen design. Countertops can have a huge effect on the overall look of a room and they also need to function well. Our designers at the Poulin Design Center are leading experts when it comes to kitchen remodeling in Albuquerque, and have seen some beautiful kitchen countertop trends emerge this year!
Quartz: Quartz countertops have become a popular choice for homeowners. This non-porous material is resistant to staining and is incredibly durable! It is often recommended as a good alternative to granite. Granite is porous and requires more regular sealing to protect its surface, while quartz does not need regular re-sealing. Not only is quartz durable and low-maintenance, but it also comes in many colors, patterns, and finishes so that the right fit is easy to find. This material is a quality investment that will give you years of use!
Patterns and Character: Homeowners are favoring countertops that offer patterns like natural curves and veins in the stone. Adding this extra visual interest can make a design feel more unique, interesting, and warm.
Neutral Tones: Soft neutral tones are winning in popularity as compared to bright and bold tones. Grey, white and beige tones are especially popular. These tones give an open and airy feel to a room and work with many different interior styles. These neutral tones are also more likely to work with different styles over the years, where bright trendy colors tend to go more easily out of date.
Wood: Wood and butcher block countertops are a popular trend. If you're looking for an eco-friendly countertop option, reclaimed wood can create a beautiful look. Keep in mind that wood, while it can be extremely beautiful, does require extra care and is not as durable as stone options! Using wood is a great way to add warmth to the kitchen and add a natural element to the home.
Seamless Kitchen Sinks: These sinks create a sleek minimalistic look, blending into the countertop. Not only do these look fabulous, but their design also makes for easy cleaning and limits the growth of mold. This style of sink works great with most types of countertops and styles of interiors.
If your kitchen is ready for an update, call the Poulin Design Center for a free design consultation! Our Albuquerque team will help you find your ideal countertops so your kitchen dreams come true.
Photo: Breadmaker