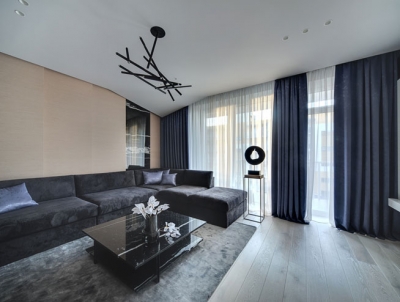 Choosing the Perfect Hardwood Floor – Poulin Design Center
It's hard not to love the timeless look and feel of hardwood. It's warmth, durability, and versatility makes it a staple in Albuquerque homes. At the Poulin Design Center, many of our clients approach us with hardwood flooring in mind, but they are unsure of the species, grain, width, or finish that would complement their existing décor. Here are some considerations for choosing the perfect hardwood:
Species
The tree you choose determines your floor's color, grain, and durability. For light floors, many choose maple which ranges in color from cream to light amber. For darker flooring, try oak or cherry. Mahogany is truly unique hardwood. It is dark brown with red undertones, but its shade greatly changes depending on the viewing angle.
The species of tree plays a large role in a hardwood floor's durability. Each wood type has a Janka hardness rating, which is determined by measuring the force required to embed a steel ball into the wood. Longleaf pine and maple are soft, with ratings of 870 and 950 respectively. Red oak (1290) and white oak (1360) fall in the mid-range and are highly durable for their price. Exotic hardwoods are generally the toughest, with some, such as ebony, garnering ratings upwards of 3220.
Width
Traditionally, hardwood flooring has been derived from nearby trees. Board width was less important than efficiency, which resulted in random width flooring. During the industrial revolution, hardwood flooring became mass manufactured and standard two and one-quarter or three inch widths became common. These sizes are still very popular today, however, you can increasingly find flooring wider than three inches, up to one foot. This style of hardwood is called plank flooring. Variable hardwood flooring is also making a comeback and can be found in a number of species and finishes.
Learn from the Experts
At the Poulin Design Center in Albuquerque, we carry hundreds of hardwood flooring options, from red oak parquet to maple planks. Call today for a free, in-home consultation!
Photo © bezikus
Meta: Learn more about your hardwood flooring options from your flooring experts at the Poulin Design Center.
Social: Many Albuquerque homeowners choose hardwood floors. Learn about the many different options available for this versatile flooring material.